In this article you will find instructions for locating your wireless USB nano receiver for the PS3 Guitar Hero Warriors of Rock guitar.
Finding the guitar wireless USB nano receiver: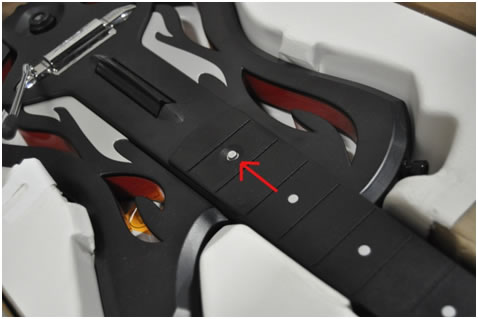 Step 1: Referencing the photo above, there is a tiny silver button located just above the strummer on the neck of the guitar.  It is on a black plastic panel cover that measures about 8″ long.  Pushing that silver button down, slide the panel cover in the direction of the arrow (or towards the strummer).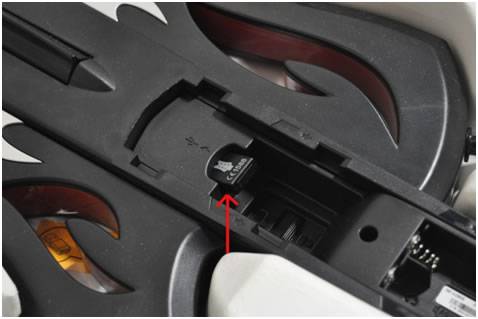 Step 2: Once you slide the cover panel, pull the cover toward you to reveal the secret compartment in the middle of the guitar.  The arrow in the photo is pointing at the wireless guitar receiver dongle that is plugged into its holding compartment.  The universal USB logo with an arrow is printed on the plastic just above the dongle to remind you where to secure it when it is not in use.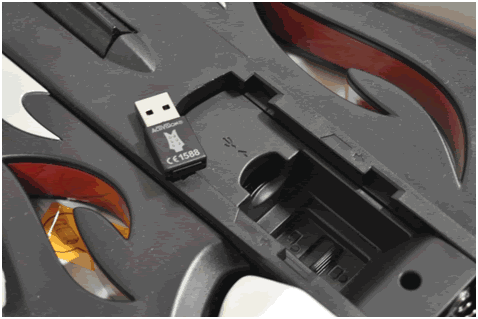 Step 3: Remove the dongle from its location and plug into your PS3 system to wirelessly sync the guitar.  The photo above shows what the USB nano receiver dongle looks like, which measures only about 1″ in length.
Now it's time to rock out!